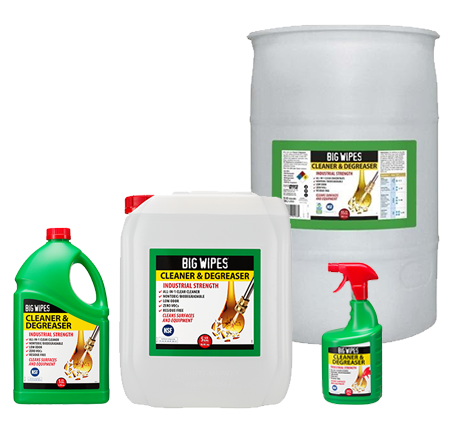 Why Big Wipes Cleaner and Degreaser?
Big Wipes Cleaner & Degreaser is specially formulated to removed grease, oil and grime with the health of the user and the environment in mind. Big wipes products are highly effective, cost efficient, non-hazardous, and biodegradable. The Cleaner & Degreaser products contain Zero VOC, no hazardous materials and therefore do not require H (hazard) or P (precautionary) statements on the label. NSF registered to be safe for use as a general cleaner in all food processing and preparation facilities.
Alternative solvent based Degreasers contain harmful elements which pose a health and safety risk if not handled correctly and may have a negative impact on the environment. Big Wipes cleaners are a safer alternative to the more hazardous "traditional" cleaning products on the market.
IDEAL FOR TRADE AND INDUSTRIAL USERS
No need for expensive personal protective equipment (PPE). Can be used in sensitive and occupied premises such as homes, hospitals and schools as it's highly effective in removing all types of grease oil and grime safely.