BIG WIPES CLEANER & DEGREASER 24OZ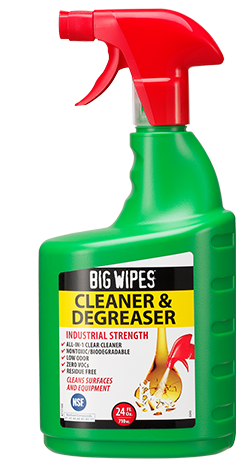 Designed to give trade professionals the peace of mind they need to get the job done. We've got your cleaning needs covered.
WHAT IS BIG WIPES CLEANER & DEGREASER?
Big Wipes specialist industrial strength Cleaner & Degreaser is biodegradable, Nontoxic, Non-flammable and contains Zero VOC making sure it is safer for you and the environment than caustic cleaning chemicals and solvents. The water-based clear formula is engineered to be tough on grease and grime yet gentle on your equipment, ensuring it is suitable for all your Degreasing requirements.
Exempt from U.S. OSHA special handling and personal protection requirements for hazardous materials. Assessed to the latest USA OSHA 29CFR 1910.1200 standards and Prop 65 compliant.
BIG WIPES Cleaner & Degreaser is registered by NSF International, a leading global independent public health and safety organization. The Nonfood Compounds Registration program verifies the safety of products to be used in food and beverage processing facilities to minimize adverse health effects and protect the environment.
Registration #159020. NSF registered A1, A2, A4, A8, B1, B2, C1
✔ Easy grip convenient 24oz refillable trigger sprayer for manual application.
✔ Wide range Spray for large surfaces.
✔ Foaming Sprayer to cling to vertical surfaces allowing liquid to grip on to the grease.
Available in a 24 oz refillable spray bottle, 1 gallon container, 5 gallon container, 55 gallon drum!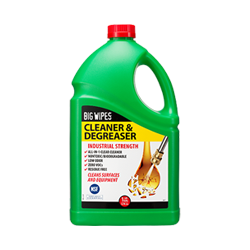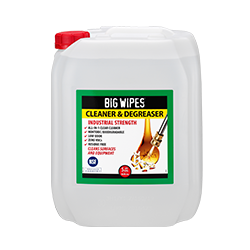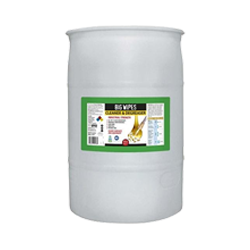 WHAT DO THEY DO?
Big Wipes Cleaner & Degreaser is designed to give trade professionals the peace of mind they need to get the job done.
The unique biodegradable formula cuts through baked on grease and grime without leaving residue or staining and is highly effective on a wide range of water safe surfaces and equipment such as: tools, floors, machinery, auto parts, parts washer, dip tanks, power washing industrial equipment, walls, mass transit such as buses and trains, concrete, metal, rubber, plastic and more.
The Concentrated formula can be used neat or diluted to suit all your cleaning needs: