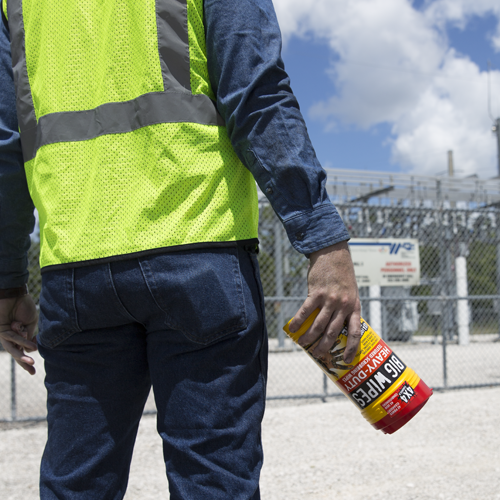 The BIG WIPES range of products contain a blend of cosmetic grade solvents to effectively remove construction filth and grime, plus have added skin conditioners that can offer a comprehensive level of portable protection in one convenient package. Big Wipes are highly effective, economical and safe for use on hands, tools and all sealed surfaces.
Big Wipes are the perfect portable cleaning solution for every industry and every tradesperson.
Utility & energy, fleet maintenance, facilities managers, electricians, plumbers, engineers, construction workers, builders, roofers, disaster control, maintenance workers, oil & gas, contractors, decorators, car mechanics, DIYers, farmers, Horticulturists and much more!
But don't take our word for it, see what the professional workers has to say:

"Concrete cutting, grease, tarmac, dust, paint, resins, oil, plaster, grouting, you name it, we get covered in it. Rip out jobs, oil fired central heating boilers, chimneys, drains etc. are a daily challenge and we are constantly filthy. But thanks to Big Wipes, at least we go to our various clients looking presentable and come home to our wives with clean hands at the end of the day!"
Michael G., Building Services Contractor

"Our company installs plumbing systems and sanitary equipment for social housing projects. I always have a tub of Big Wipes Multi-Surface wipes in my tool bag as they are a fantastic finishing wipe and get rid of any silicone residue from my hands and tiles."
Joe C., Plumbing, Heating and Air Conditioning Engineer

"Since we have buckets of Big Wipes Heavy-Duty on site, we are saving a fortune on laundering and replacing our workwear! Before Big Wipes, the guys always wiped their hands down their pants and looked a right mess – they look so much more professional now.
Steve T., Facilities Manager

"Concrete cutting, grease, tarmac, dust, paint, resins, oil, plaster, grouting, you name it, we get covered in it. Rip out jobs, oil fired central heating boilers, chimneys, drains etc. are a daily challenge and we are constantly filthy. But thanks to Big Wipes, at least we go to our various clients looking presentable and come home to our wives with clean hands at the end of the day!"
Michael G., Building Services Contractor

"Our company operates mostly in the housing, healthcare, education and local authorities sectors. We always use the toughest, most durable & stain resistant emulsion – Multi-Purpose Big Wipes are perfect for removing marks from that type of surface. Plus, when I do glossing work, I wrap a Big Wipe around a filling blade and run it along the edges of where I overpainted – takes the paint off every time."
Stuart G., Painting Contractor

"One day I was up a ladder, using PU foam behind a fascia, when a gust of wind blew some escaping foam on the neighbor's car. I managed to clean it all off with Big Wipes, so I never use expanding foam without a tub of Big Wipes close by. Plus the wipes are fantastic at cleaning the nozzle and any spillages. Big Wipes to me are a foam First Aid kit."
Mark B., Property Maintenance Contractor

"Our contracting firm is involved in mechanical and electrical building services, communication technology and systems integration in commercial and residential markets. Small loft spaces are particularly unpleasant and dirty places to work and Big Wipes are a quick, easy and portable solution to remove soot and filth."
Trevor J., Electrical Contractor

"I work a lot with glass fibre resin and CT1 sealant, which bonds metal, wood and glass among other things. Big Wipes manage to get all the spillages off my hands, tools and surfaces. They are brilliant!!"
Neville D., Randell & Janes Roofing